Yes… I have done it again. You can read about the changes here.
Well its time for this weeks scavenger hunt. I will be honest, half of my photo's were taken this morning. But I think some of them turned out nicely, others perhaps not so nicely. Well here they are:
1. Love
For valentines I got my husband a potted rose plant, a bottle of dr. pepper (his favorite and really hard to find over here) and a couple of bounty bars. He got me this plant, which is heart shaped. Now I am horrible with plants, I kill them all, but I look at this as a challenge. I must not let this plant die. At least in the first week…
2. Duplicated
It has been 4 weeks since I took a belly pictures. So I decided to try and duplicate this photo. However, the light I had sucked, and I didn't have a flower. So instead I got something that resembles the previous, much better pictures. This is also the last time I will be wearing these pants. Sad Face.
3. Trending
This look is one that is trending in our home right now. It is the look of slight annoyance with indifference. This is usually followed with two scenarios. Happy, fun almost two year old, or cranky, I'm going to do everything I'm not supposed to do, almost two year old.
4. Paper
I wasn't really sure what to do with this prompt. So, I decided to take a macro of a Garfield comic. I actually really like the textures that can be seen. Plus, Garfield is just awesome.
5. Plastic
So I have many many options for plastic. However these keys were just sitting the carpet and something about the color of them on the dark carpet just drew my eye.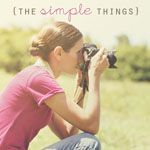 I hope you all have a great Sunday. The sun is shinning here, so hopefully we will get outside today.