Welcome to another week of Inspired Tuesday. This week we have two featured blogs!
First up we have this photo that Marissa from A Journey Called Life shared.
Click the image to see also the words she shared in her post.
Our second feature is from Bi Ti from the blog Prêt-à-Vivre. They shared a wonderful post about San Francisco. What to see and do there, and shared some beautiful pictures! Here is an example of one. Be sure to click on the image to have a look at the original post.
Last week I think we had a record number of people link up. This week lets try and hit 30!
What is Inspired Tuesday?
Me and my co-hosts believe that any post written can inspired someone else, whether it is a personal story, a photography, a recipe.. whatever, so I invite everyone to link up their posts no matter the topic.
The rules are simple:
3) It would be nice if you added the Inspired Tuesday button to your post, or even just a link back to the link-up.
4) Try to visit others and be inspired!
That's it.
Here is the button if you would like it: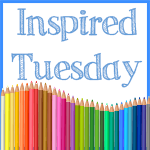 And this weeks free printable:
It can be downloaded from
HERE