You guys are so awesome! We had 34 blog posts linked up. I am so happy to see this blog post start to take off. So much great posts out there!
I think I may have missed commenting on a couple of your blogs this past week. I am so sorry if I did, but I did stop by everyones blogs.
This week we have two featured Blogs
The first featured blog is Just call me Petty. The last few weeks she has been linking up her Make A Difference Monday posts where she features charity's and other organizations that make a difference. You should really stop by and check them out!
Our second featured blog is A Rural Journal. Last week Nancy shared a beautiful picture with some lovely words, as well as some awesome textures.
What is Inspired Tuesday?
Me and my co-hosts believe that any post written can inspired someone else, whether it is a personal story, a photography, a recipe.. whatever, so I invite everyone to link up their posts no matter the topic.
The rules are simple:
3) It would be nice if you added the Inspired Tuesday button to your post, or even just a link back to the link-up.
4) Try to visit others and be inspired!
That's it.
Here is the button if you would like it: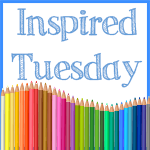 This weeks free printable:
You can download this free printable from
HERE