I hope you all enjoyed the long weekend. We did. The end of it had some nice weather, and we have been working on the photography studio. Overall a good weekend!
This weeks featured blog post is from Gaye over at Calm.Healthy.Sexy. She wrote a great post about 6 free gifts to your husband.  If you didn't stop by it last week, I encourage you to stop by her blog this week and show her some love.
What is Inspired Tuesday?
Me and my co-hosts believe that any post written can inspired someone else, whether it is a personal story, a photography, a recipe.. whatever, so I invite everyone to link up their posts no matter the topic.
The rules are simple:
3) It would be nice if you added the Inspired Tuesday button to your post, or even just a link back to the link-up.
4) Try to visit others and be inspired!
That's it.
Here is the button if you would like it: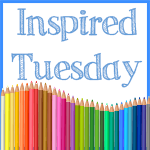 And here is this weeks free printable:
You can download it from HERE
And this weeks link up: