Welcome to another week of Inspired Tuesday. How has your week been? Mine has been super busy (as usual..)
This weeks featured blog post comes from Jill over at Jill Wellington Photography – Passing the knowledge forward. Last week she shared some beautiful pictures using only natural light. Be sure to stop by her post if you didn't last week and let her know which one was your favorite.
What is Inspired Tuesday?
Me and my co-hosts believe that any post written can inspired someone else, whether it is a personal story, a photography, a recipe.. whatever, so I invite everyone to link up their posts no matter the topic.
The rules are simple:
3) It would be nice if you added the Inspired Tuesday button to your post, or even just a link back to the link-up.
4) Try to visit others and be inspired!
That's it.
Here is the button if you would like it: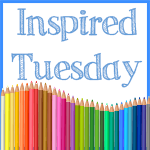 I ran out of time this week and was not able to create a printable for you. Sad Face 🙁
Instead I am going to share a pictures I took today with you:
I edited this picture with a couple of Kim Klassen's textures. If you love photography and textures, you should stop by her blog. She makes some of the best textures and if you sign up for her newsletter, you get them for free. She also does a weekly link up on Tuesday's called Texture Tuesday.
I hope you all are having a wonderful Tuesday!